A social media organised riot in Dublin. Well there's a first thanks to Ireland's recently imported "diversity".
Every country that imports "diversity" from the third world ends up with similar problems yet we foolishly sleepwalk into the same problems and ignore the cause. The two gangs involved were all ethnically African. This was confirmed for us by eyewitnesses and sources.
Surely this is not what they meant when they said that "diversity is our greatest strength".
So should we all close our eyes and just stay quiet about the ethnic make up of this gang violence because someone might say the dreaded word "racist"?
We have seen the results in Sweden, France Germany, U.K., America and any country that accepts massive immigration from the third world. Ireland won't survive this slide. Other much larger and wealthier European countries are already struggling to deal with these people.
Terrified shoppers attacked as 250 gang rivals battle in Facebook-staged street riot
Innocent shoppers were attacked and workers were threatened at knifepoint after rival gangs of up to 250 youths clashed during a riot arranged on social media.

Shoppers walking along Dublin's Henry Street close to where the riot took place
Several people were injured during the shocking incidents of violence on Mary Street, spilling onto Henry Street, on St Stephen's Day.

The terrifying incident occurred on one of the busiest shopping days of the year and as many as five people are believed to have been assaulted.

At one point, shops locked their doors to protect customers inside.

Two large rival groups of teenagers, mainly from Blanchardstown and Tallaght, arranged the confrontation on Facebook and a number of individual melees among the youths were filmed and shown on the Snapchat social media app.

The incident worsened shortly after 7pm as thousands of shoppers descended on the city centre to take advantage of the post-Christmas sales.

"At one point about 90 to 100 youths came running up the street together. They were all shouting at the same time and filming themselves with their phones," a Mary Street sales assistant said.

"Later, the staff locked the doors of the shop for the safety of customers inside. The customers didn't want to leave the shop because they didn't feel safe," she added.
An assistant manageress of another shop said: "We heard it was all arranged on Facebook. A crowd of kids meeting up for a fight. I was very worried about leaving the shop to go home.

"I'm black and look younger than I am and I was afraid the teenagers would think I was a member of one of the gangs and attack me. The store manager walked me to my bus stop."
"Youths". Yes youths is a mainstream media code word for Black people. What's next, no go zones in Ireland, ethnic ghettos? Why should we put up with this? At least the majority of Irish People understand the truth if the Irish Independent comments are anything to go by.
If you want to see what the next iterative step in the diversity progression is then look no further than the "Canary in the Coalmine" Nations…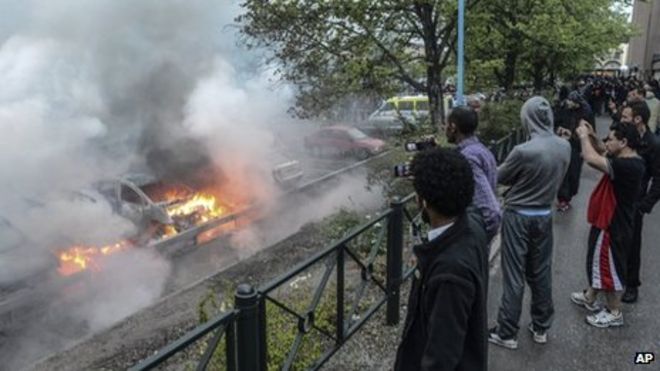 Sweden: Increasing Violence by Asylum Seekers against Swedes
MAPPED: How sex attacks are spreading across Sweden as police struggle with migrant crime
Are there police no-go zones in France? The police say yes
Something to look forward to, you know because diversity is our greatest strength or whatever.